I just finished building a new desktop computer. It uses off-the-shelf components, has similar or better performance to the 2019 Mac Pro and costs about $2,000 USD. This is a serious bargain when compared to Apple's whopping 7,800 USD retail price tag.... and yes it runs the latest Mac OS.
The "Hackintosh"
The name for this type of custom built computer is a "Hackintosh". A Hackintosh, is a computer that runs Apple's Mac operating system on computer hardware not authorized by Apple. To get this out of the way - it is not authorized but calling it illegal would be pushing it a bit far. Also, I do not sell any software to enable this nor do I sell any preconfigured systems.
I will get into the details of my build including all of the components used. I will also share resources so you can build one yourself.
After discovering the "Hackintosh" community in 2013, I have continued to be a contributor and builder of these systems. The community is open, collaborative and has some of the most knowledgeable people in hardware and software. They have also been very helpful in building my Mac Pro (especially the AMD OSX Discord channel and users like Pavo)
I criticize Apple often and will do so here (especially as it relates to their desktops) but in general I am huge fan. I have never purchased a desktop from Apple but have purchased many MacBooks, iPads and iPhones over the years - almost too many. Over seven years I have built three stable hackintoshes and each one was my primary productivity desktop.
My MacOS history
I use MacOS as my primary operating system for productivity and I have done so for most of my life.  Because it is UNIX based I always thought of it (incorrectly) as the "prettier Linux". In terms of command line interface, I can barely tell them apart and that's really where the similarities end. It has and will likely continue to be my OS of choice for writing software and producing/editing media.
I have made use of five Apple laptops over the past decade.[1]  Each had unrivalled build quality, form factors that were compact, the designs were elegant and screen quality was impeccable. The raw power of each laptop may have been underwhelming compared to competitors based on price but these aspects always made up for it.
It's a different story when it comes to Apple's desktop lineup.
Although being a fan of the laptop products, I could not and have not come to terms with the hardware prices for any desktop products. As a teen, I used a variety of iMacs in computer labs daily but my personal desktop was always dual booted Windows/Linux. After discovering the Hackintosh community I never found the need to buy a desktop from Apple.
The usual walled garden
Without turning this into a timeline of Apple's desktop product history, there have been conscious decisions made over the life of the company to deliver its products within the infamous "walled garden".
The "walled garden" is a closed ecosystem enabling Apple to regulate hardware, software, apps, and services on its devices to control the entire user experience and effectively create loose vertical integration. This has proved over time to have positive and negative effects to the consumer.
No modular components
Since the 1990's desktop computers have always had modular components meaning you could swap hardware in and out with relative ease. This also meant that you could repair and upgrade parts yourself over time.
Apple was never on board with this idea and still isn't. Except for memory, Apple desktops cannot be upgraded with standard computer components or taken apart with standard tools.
No install on non-Apple hardware
Windows and Linux operating systems could generally be installed on any arrangement of hardware components independent of manufacturer. The operating systems were never tied to any hardware.
Apple was never on board with this idea and still isn't. Mac OS can only be installed on Apple products
Competition
If you were inside Apple's "Walled garden" and managed to take a peak outside, all of a sudden the garden didn't look as pretty
Over time, the market for computer products outside the "walled garden" were very competitive. The result was that Apple customers often overpaid for equivalent hardware - this was especially true for Apple desktop products.
If you purchased any Apple desktop, the cost was high and the life was limited. Some desktops like the 2013 Mac Pro were obsolete within a year or two of release but Apple continued to sell it for six years unchanged.
Building the Mac Pro killer
The 2019 Mac Pro
This is the target build for the Mac Pro I am going to compare to. I upgraded the processor from the 8 core to the 12 core and the storage to 2TB. All in the cost is 7,800USD.
3.3GHz 12‑core Intel Xeon W processor, Turbo Boost up to 4.4GHz
32GB (4x8GB) of DDR4 ECC memory
Radeon Pro 580X with 8GB of GDDR5 memory
2TB SSD storage
Stainless steel frame with feet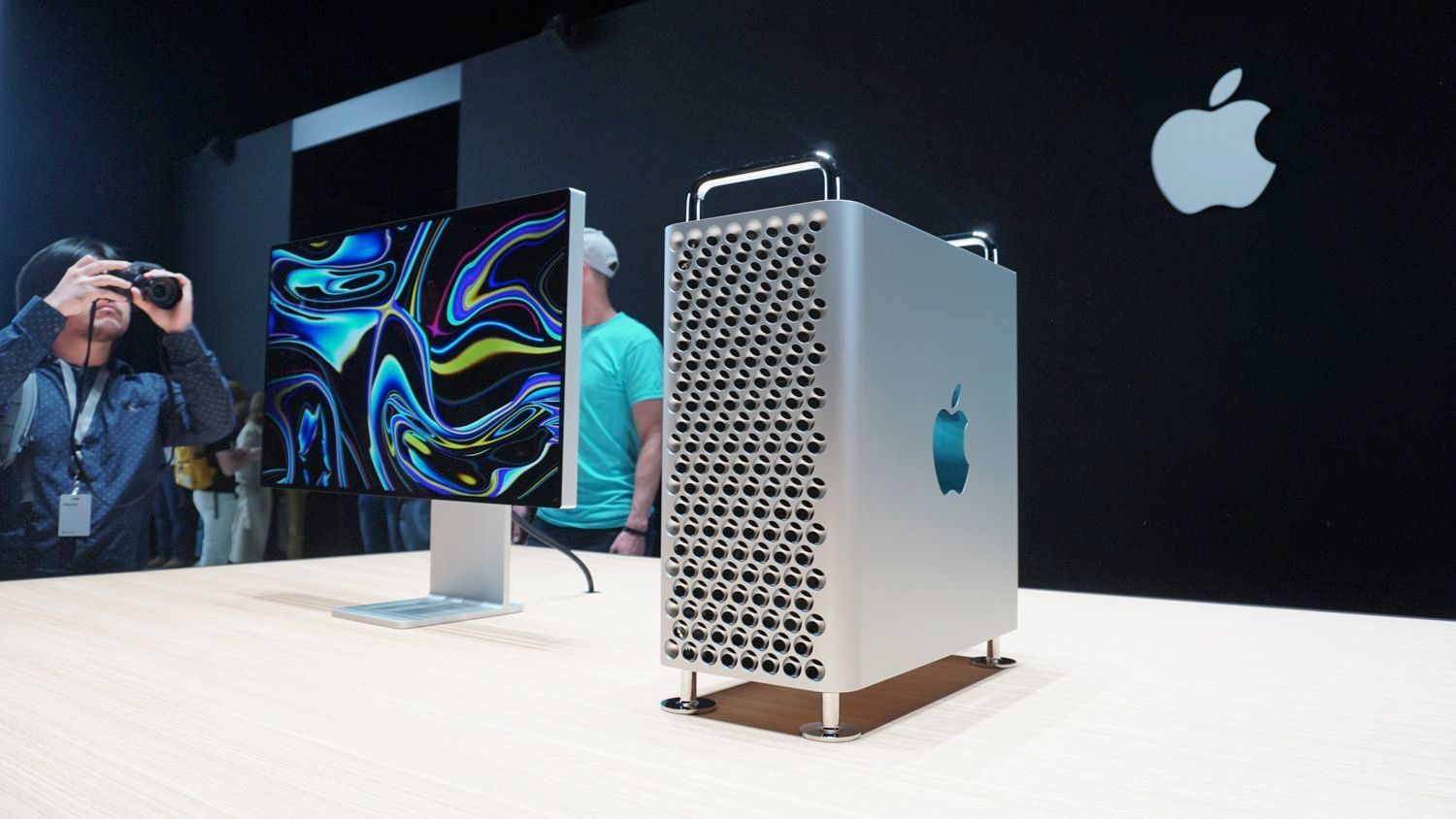 My 2019 Hackintosh build
Below are the components and prices at the time of building for the Hackintosh that I built. The total cost for my custom build is around $2,100USD
AMD Ryzen 9 3900X 3.8 GHz 12-Core Processor ($420)
Corsair Vengeance RGB Pro 32 GB (2 x 16 GB) DDR4-3200 Memory ($165)
Gigabyte Radeon RX 5700 XT 8 GB GAMING OC Video Card ($410)
Samsung 970 EVO Plus 2 TB M.2-2280 NVME Solid State Drive ($400)
MSI MPG X570 GAMING EDGE WIFI ATX AM4 Motherboard ($190)
Dune Pro Case ($300) [2]
SeaSonic PRIME Gold 1200 W 80+ Gold Certified Fully Modular ATX Power Supply ($150)[3]
Performance comparison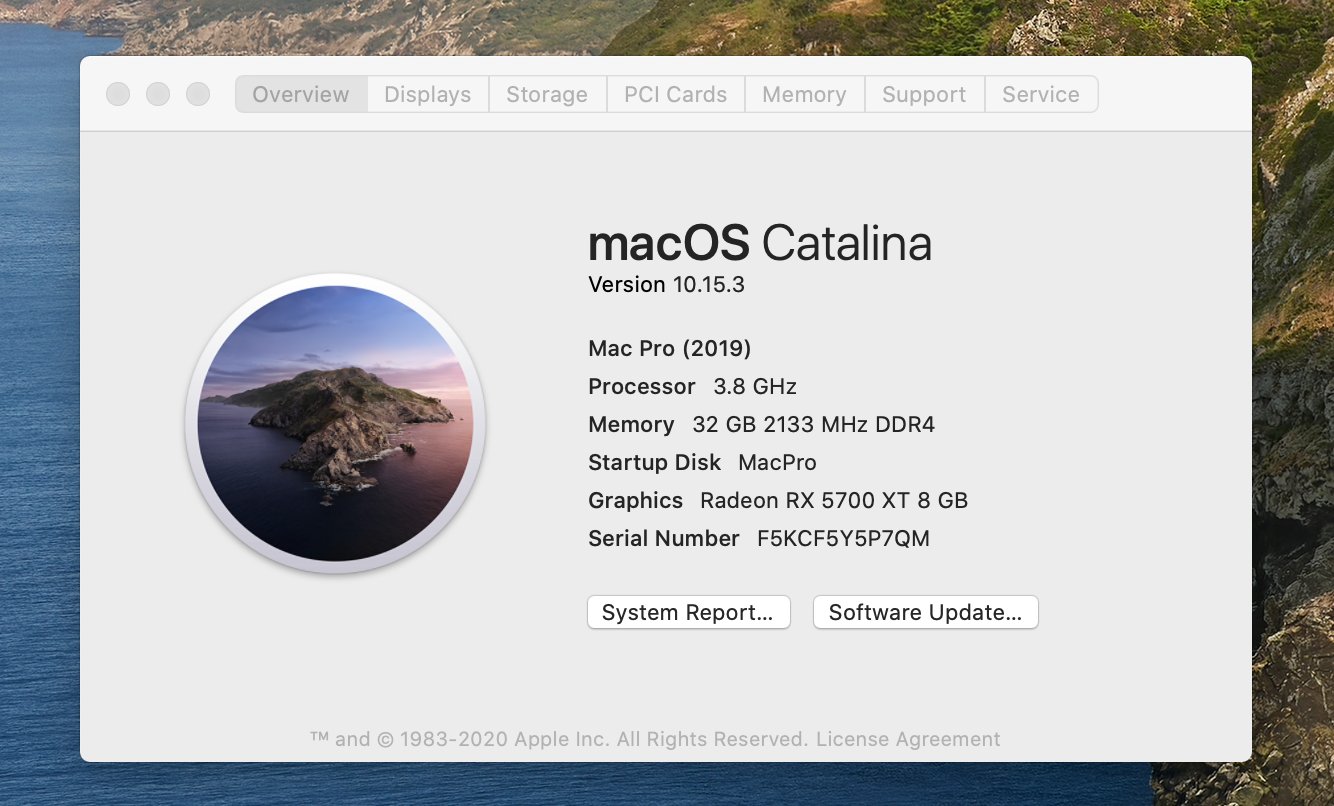 Geekbench CPU and Compute
Geekbench is a cross-platform processor benchmark, with a scoring system that separates single-core and multi-core performance, and workloads that simulate real-world scenarios.
The CPU Benchmark scores for the Mac Pro (Late 2019) with an Intel Xeon W-3235 processor 3.3 GHz are:
Single-core score: 1,121
Multi-core score: 11,769
The scores for my Hackintosh with an AMD Ryzen 9 3900X 3.8 GHz are:
Single-core score: 1,259
Multi-core score: 10,515
As you will note, both CPUs are 12 cores and the benchmarking scores are very comparable. In this test, my hackintosh wins on single core performance but is edged out on multi-core scoring. It should be noted that the scores are so close that performance differences between them would be hard to notice during usage.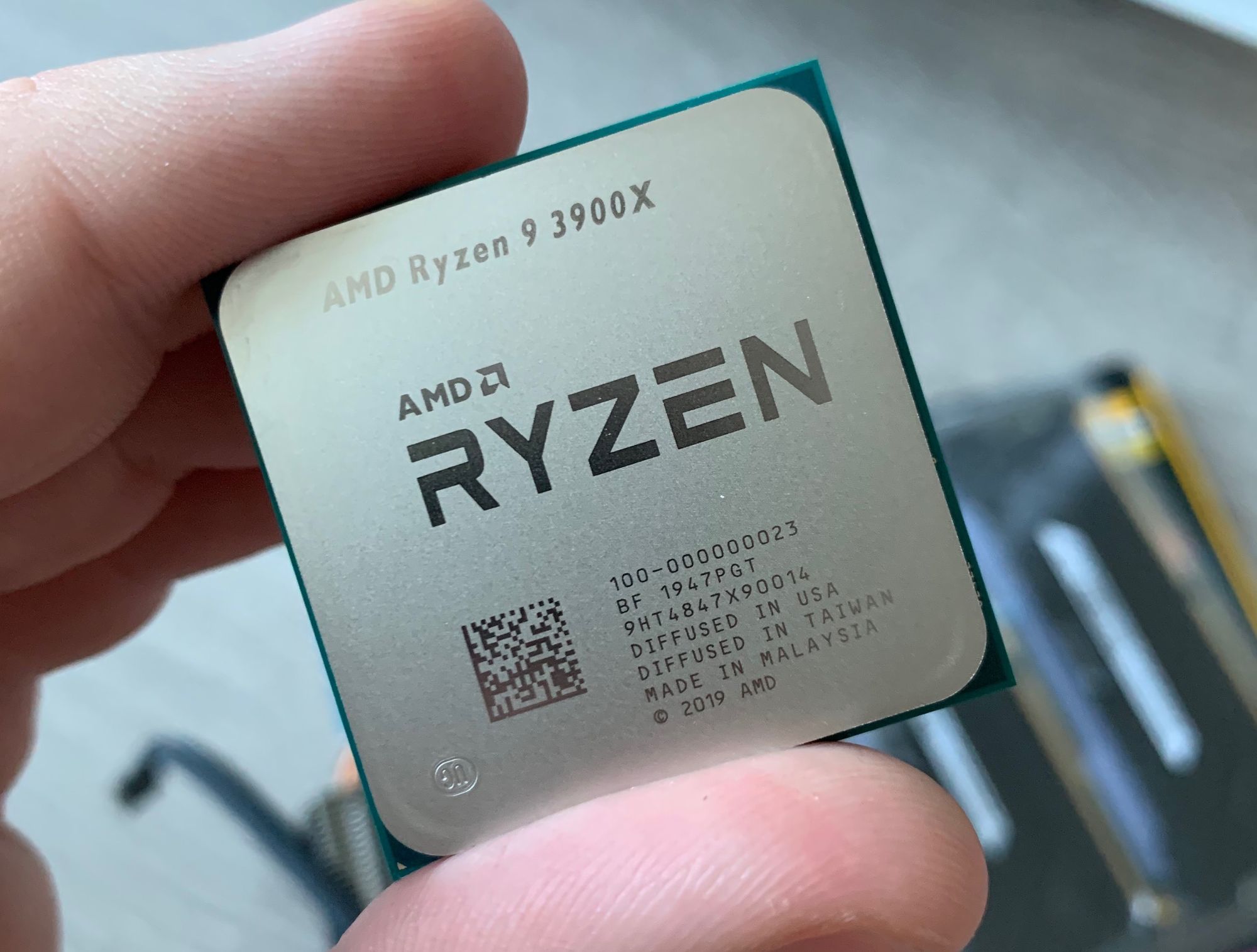 If you are wondering about the comparability of the graphics cards, The OpenCL compute score for my hackintosh's  Radeon RX 5700 XT is 72,451 where as the Mac Pro's Radeon Pro 580X is 40,813.
How to install MacOS
A Fair Warning
Building a Hackintosh is not easy. The expertise required to build and maintain a stable system is not extremely high but a slightly above average knowledge of computer systems is necessary.
Resources
If you are up for the challenge, here are a few resources to get you started:
1. AMD OSX Website - The best resource for detailed information
2. AMD OSX Discord - A chat channel for the AMD OSX community - everyone is friendly and helpful
3. Youtube - More and more content creators are sharing their builds and how to copy them. This video by SnazzyLabs is probably the most informative and most relevant here
Footnotes
[1] 2013 MacBook Air, 2015 Macbook Pro, 2019 15-inch MacBook Pro
[2] Currently awaiting delivery of the Dune Pro case, so I am using a temporary generic full tower chassis in the meantime
[3] Just a spare power supply I had laying around